Bianca Montgomery
Eden Riegel as Bianca Montgomery
Online Reboot of AMC
All My Children
Portrayed by
Eden Riegel (2000-2009 with several breaks, 2013-present)
Various child actors (1988-1998)
Christina Bennett Lind (June 14, 2010-2011)
Current status
Contract
Duration
1988-1998, 2000-2011, 2013-present
First appearance
February 8, 1988 (on ABC's AMC)
April 30, 2013
Last appearance
September 23, 2011 (network finale)
Created by
Lorraine Broderick
Introduced by
Stephen Schenkel
Profile
Gender
Female
Born
February 9, 1984[1][2]
Age
(27) 1-4-11
Occupation
Formerly charged with overseeing Cambias Industries' European division
Co-Owner (by proxy) of Cambias Industries
Formerly employed by Fusion Cosmetics, developing products for their teen line.
Former Executive at Enchantment Cosmetics, overseeing the development of the company's teen line
Former student of Pine Valley University
Former model for Enchantment Cosmetics
Residence
Her House, with Miranda (and Gabrielle off-screen)
Bianca Christine Montgomery is a character on All My Children since 1988. She is the daughter of Erica Kane and Travis Montgomery. She is the sister of Kendall Slater, Josh Madden, Molly Montgomery, and Sean Montgomery. She is the mother of Miranda and Gabrielle Montgomery.
Character Background
Edit
1988-1990
Edit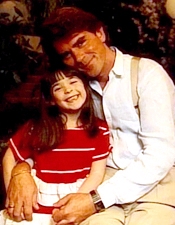 Bianca was born out of wedlock in February of 1988 (SORASed to 1984 in 1993) to Erica Kane and Travis Montgomery, though eventually they married. Later that year, she was kidnapped by Steven Andrews, a man Travis had hired to stage the phony kidnapping as a way to prevent Adam Chandler from taking over his company. When Erica learned of Travis' trickery, she quickly left the relationship and fell into the arms of Jackson, Travis' brother.
Bianca fell deathly ill with Reye's Syndrome in early 1990. For possibly the first time in her life, Erica was forced to think of someone other than herself. Erica pleaded with God to save her daughter's life; her wish was granted, and Bianca fully recovered from her ailment. Erica married Travis for Bianca's sake, but she continued to have a behind-the-scenes affair with Jack.
1991-1996
Edit
In 1991, Bianca caught her mother and Uncle Jack kissing. The young girl set fire to her "Uncle Jack" doll, but the fire quickly spread throughout the house. No one was injured in the fire, but Travis learned of Erica and Jack's affair. Travis sued for custody of Bianca and won. Travis plucked his daughter from Pine Valley and moved to Seattle.
On a subsequent visit to Pine Valley, Bianca was nearly molested by Richard Fields, the same man who raped her mother, but her half-sister, Kendall Hart, rescued her before any assault occurred.
In 1994, Bianca lost her maternal grandmother, Mona Kane, when Mona passed away in her sleep. At that time, the evil Dr. Jonathan Kinder kidnapped her. He was the man who had gotten Erica hooked on painkillers after she tumbled from a scaffold. Kinder held the girl for a two million-dollar ransom. With the help of Janet Green, Erica rescued her little girl, but not before Bianca accidentally pushed him down a flight of stairs, which caused his "death." Erica and Janet buried Jonathan in Erica's backyard. What no one knew was that Jonathan really wasn't dead.
1997-2000
Edit
In 1997, Bianca ran away from Seattle to be by her mother's side because Erica had recently been jailed for the kidnapping of little Maddie Grey. A few days into her stay, Bianca fainted and was rushed to Pine Valley Hospital. There, she was diagnosed as suffering from anorexia nervosa. Erica was given an early parole, with a little help from Edmund Grey, who spoke on her behalf at the parole hearing.
By early 1998, Bianca's condition became quite serious. Hospitalized with a feeding tube, the doctor tending to Bianca recommended drastic measures. At a therapy session, Bianca was given the opportunity to open up to her parents and loved ones. Shortly thereafter, Bianca was sent to a rehabilitation center in New England.
In the summer of 2000, a 16-year-old Bianca returned to Pine Valley. Some months earlier, Bianca had been released from rehab and returned home to Seattle, where her behavior became quite erratic. Barbara complained that the girl had become "sullen" and was lax in her studies. Erica arranged for her daughter to spend time with her mother in Pine Valley. The reunion was not as expected. Erica and Bianca clashed at almost every turn. Erica insisted on throwing her daughter a "coming out" party, of sorts, but Bianca wanted nothing to do with the party.
Bianca bowed to her mother's demands and agreed to attend the party. At the party, which was plagued with a hidden tabloid reporter and other troubles, Bianca learned that her father, Travis, had suffered a stroke and died. Bianca's attention to her studies drifted; she decided that she was going to drop out of school and find a full-time job. Jack and Erica demanded that Bianca go to school, but Bianca's new friend, Rain, helped Bianca find her "bad girl" side. Erica later determined that Rain was a bad influence on her daughter and paid her off to leave town and never return.
On Christmas Eve 2000, Bianca shared a painful secret with her mother. As Erica prepared for a press conference announcing her plan to feature herself and Bianca as models in an ad campaign for Enchantment, Bianca didn't show. Erica returned home to find the reason for her daughter's delay. Bianca revealed to her mother that she was gay. Erica was unwilling to listen to what her daughter was saying; she dismissed her daughter's words and asked that Bianca continue getting dressed. Bianca tried to get her mother to listen, but nothing seemed to get through. Erica left the house and did not return home until the next morning. Erica and Bianca took several months to restore their relationship. Things did not become "normal" overnight.
Erica strongly disapproved of Bianca's friendship with tomboy Mary Frances "Frankie" Stone. Erica vowed to kill Frankie after Bianca walked in on Frankie and a boy (Adam Chandler, Jr.) in bed together. Sure enough, Frankie turned up dead several hours later. Thinking that Bianca killed her, Erica decided to take the fall for Frankie's death. The trial quickly degraded into a three-ring circus, with Erica ditching counsel in order to represent herself. Erica was ultimately exonerated, but her relationships with Bianca and lawyer/lover Chris Stamp were severely strained.
Shock of Maggie
Edit
Bianca got the shock of her life when Frankie's twin sister, Maggie, showed up in town to look for answers about Frankie's death. In January 2002, Bianca's half-sister and Erica's eldest daughter, Kendall, returned to town and the two began to bond. Erica gave Bianca a prestigious job at Enchantment. Bianca was a natural in the cosmetics industry.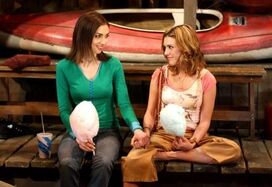 Meanwhile, after Bianca overcame her initial shock over Maggie's existence, they became chummy. She knew Maggie was heterosexual, but Bianca began to fall for Maggie, especially after Maggie and she went to the prom together. Desperately, Bianca threw Maggie at Tim Dillon, only to grow jealous when she saw them together. Over time, the unspoken feelings began to seriously hinder Bianca and Maggie's relationship.
By the start of 2003, Maggie and Bianca had a long discussion, where Bianca confessed to wanting a "real" relationship with Maggie. Maggie admitted that she loved Bianca truly and sincerely, but ultimately she was straight and couldn't change herself. Although Bianca's heart was broken yet again, she understood, and the two young women pledged to stay good friends no matter what. With Maggie's encouragement, Bianca decided to explore the gay and lesbian community at PVU.
Meanwhile, Bianca's friendship with Boyd Larraby, Enchantment's chief chemist, continued to grow. The two of them shared interest in a newcomer to Enchantment, Lena Kundera, Erica's new CFO. Lena was flirtatious [with both men and women] and smart. Both Boyd and Bianca were attracted to the Polish native, and they made a friendly wager as to which of them could actually go on a date with Lena first. Eventually, Boyd became suspicious of how Lena strung along both him and Bianca simultaneously, so he dropped out of the bet. He advised Bianca to give up, too, but she wouldn't. Bianca was not only attracted to Lena, but also respected and admired her; Bianca was not so easily dissuaded.
Eventually, after a handful of interesting dates and phone calls, Bianca thought she was on the road to something special with Lena. However, Lena's real boss and sometimes-lover, Michael Cambias, was increasing pressure on her to steal Boyd's anti-aging formula from Enchantment. Between the stress from Michael and the confusion of her seemingly genuine feelings for Bianca, Lena decided to return to Europe to escape the deceit. But just before Lena boarded her plane, Bianca arrived at the airport to beg her not to leave. They kissed. Bianca assured Lena that whatever was wrong in her life wouldn't be suddenly fixed if she ran away. Both women returned to the Valley Inn, where Bianca seemed happy enough to have rescued her blossoming relationship. Explanations could wait.
Storyline revolving around Lena
Edit
Erica arrived at the Valley Inn to ask Lena about some suspicious wire transfers from Enchantment's account, and she was surprised to find Bianca there. Bianca stood her ground and revealed to her mother that she and Lena were in a relationship. Politely, Bianca asked Erica to leave. Erica did so after asking her CFO to do some legwork regarding the wire transfers. Later, Erica confided her concern for Bianca's welfare to Boyd, who let Erica know that he shared her suspicions, though he had nothing concrete with which to back them up.
Michael Cambias was trying to make Lena use her closeness with Bianca to get the anti-aging formula, though Lena was refusing. Michael went to her hotel room and threatened her physically, and he threatened to hurt her family back in Europe if she didn't comply. Under duress, Lena agreed to help. Lena searched the safe at Enchantment, but she found nothing. While that was happening, Kendall told Bianca the truth about Lena and Michael Cambias. Bianca slapped Kendall and refused to believe her story. Yet, when Bianca returned to Lena's room at the Valley Inn, she saw Michael leaving it. Bianca confronted Lena, who acknowledged that she had a connection to Michael Cambias, but she fudged most of the details.
Lena told Bianca that she was being completely honest about her feelings, and admitted to loving Bianca. Bianca set up Lena, and allowed her to be alone in Erica's penthouse. As Bianca watched over the secret surveillance cameras, Lena helped herself to the combination to Erica's safe from Bianca's purse -- and then to a secret formula for an anti-aging cream from Erica's safe. Lena would stumble across the security cameras a few days later and confessed her crime to Bianca. At a press conference staged to expose Michael and Lena's crimes, Bianca took pleasure in exposing what Lena had done, even though she'd "promised" she would turn Lena over to the authorities. District Attorney Jack Montgomery agreed to drop the charges against Lena if she agreed to testify against Michael.
Bianca slowly began to forgive Lena and allow the possibility of forming a romantic relationship with her again. However, Bianca's trust in Lena was tested again when a bogus photo of Lena insinuated that she and an employee at Chandler Enterprises were having a sexual relationship. Lena told Bianca that the photo wasn't real and Michael Cambias had set her up, but Bianca didn't believe her. Kendall Hart and Aidan Devane were able to track down the employee, who suddenly disappeared. After pretending they were going to hurt him, the employee admitted that Michael Cambias had paid him to lie to lie about Lena, which cleared her name.
Bianca and Lena reconciled and planned to take a trip around Europe for the summer. In May 2003, Michael Cambias attempts to rape Erica and Kendall but while mother and daughter manage to save each other from him and grow closer again, Michael succeeds in raping Bianca in July 2003. Bianca didn't tell anyone about the rape, although everyone noticed the drastic and unhealthy change in her behavior. In order to cover up her rape, she told everyone that she had broken up with Lena and that was why she was so upset. She broke things off with Lena, and didn't give her much of an explanation or reason. Weeks later, Bianca finally admitted to Maggie Stone that she'd been raped. Maggie wanted to tell the cops, but Bianca made her promise on their love of her sister, Frankie, that she would not tell anyone what happened. Lena still wanted to work things out with Bianca and even offered her wedding bands as signs of their love for one another. Although Bianca wanted to be with Lena, she pushed her away again and refused the proposal.
Rape Aftermath
Edit
Bianca continued to hide her rape from her family, including Erica, and keeps it to herself, confiding only in Maggie who pushes her to tell somebody. However, David shared his suspicisions with Erica about Michael raping Bianca. An agonized Erica, suffering from nightmares wherein Michael taunts her about her daughters (him already having tried to rape Kendall in May 2003 but Erica saved Kendall from Michael) and noticing changes in Bianca, realized David's suspicions about Michael having raped Bianca are true. She tries to have Bianca tell her but Bianca denies it until, eventually, she reveals to a devasted Erica that Michael raped her. Erica convinces Bianca to report the crime to the police. As Kendall is horrified to learn what Micheal did to Bianca, Jackson finds out about Michael raping Bianca and he immediately goes on a rampage to throw Michael behind bars. Although Michael was arrested, he was not given a trial. Due to lack of physical evidence proving he raped Bianca, the judge decided that Bianca's testimony was not enough to move the case further. When Kendall discovered Michael was realeased from prison, she began a plot against Michael to help her mother and sister. Kendall's friend, Boyd, posing as Michael, marries Kendall to help her fake a marriage to Michael. She marries "Michael" in an effort to get back Enchantment for Erica, win back the company she co-founded with Greenlee, and keep Michael away from Bianca.  
Shortly after, Bianca discovered from a routine checkup with her doctor, David Hayward, that she was pregnant with Michael's child. She chose not to tell anyone about the pregnancy for some time but when she told Erica, Erica tried to convince Bianca to abort the pregnancy. She didn't want Bianca to suffer through the pain she experienced when she had Kendall, explaining both she and her mother, Mona, had tried to protect Kendall when she was born and give her a good life with the Harts but Kendall still found out the truth of her conception and suffered from the knowledge. A conflicted Bianca was torn between terminating the pregnancy and keeping the child to raise herself. She decided to have an abortion and made an appointment with David. When she got to the clinic, she ran into Kendall. Kendall realized why she was there and told her sister that she needed to do what was right for her, even if it meant terminating the pregnancy. In the short time they spent together at that clinic, Bianca formed a close bond with her sister and finally understood all the pain that Kendall had been living through. Kendall told Bianca she loved her and would support whatever decision she made.
After a discussion with David, unconditional support from Kendall, and soul-searching, Bianca decided not to terminate the pregnancy and to raise her baby herself. Maggie supported Bianca and encouraged her to tell her mother the truth but Bianca refused to tell Erica about the pregnancy for fear that it would hurt her mother. Bianca told Maggie that she would hide the pregnancy, with David's help, by hiding her figure and going elsewhere to deliver the baby. She would return with her newly "adopted baby" and raise her. Maggie thought the plan was extreme, but promised to keep the pregnancy a secret.
Kendall's sisterly act soon turned into a nightmare for Bianca when Kendall announced that she married Michael in Las Vegas to recover Enchantment and Fusion and everyone thought she was lying. Shortly after being a newlywed, Michael showed up dead in the freezer of an abandoned warehouse that Kendall had purchased the day before. Soon, everyone in Pine Valley became a suspect, even Bianca. Bianca swore that she was with Reggie, Jackson's adopted son, the entire night during which Michael was killed. With Michael's death, Kendall thought she would inherit the companies he had stolen but Ryan Lavery sidetracked her plans. Ryan announced at a mysterious dinner that in Alexander Cambias', Michael's father, will, Ryan would be the sole heir of the Cambias fortune, unless Michael had a child.
Even with this news, Bianca still refused to tell anyone the truth. The last thing she wanted from the Cambias family was their money. Kendall approached her to try to explain that she married Michael but never slept with him. Kendall told Bianca that what she did, she had done to protect Bianca and Erica. Bianca believed her and their relationship developed into a close bond. When Kendall came to visit Bianca in her new apartment, she found a baby book in a stack of books on a coffee table. When she picked up the baby book, Bianca's first sonogram tumbled out. Bianca tells her sister that she never ended her pregnancy and is keeping her child. She told her that after their conversation, she couldn't terminate the baby as she saw Kendall in her baby. Kendall understood her reasoning and agreed that their mother shouldn't know about the baby.
Kendall's scheme
Edit
Kendall planned a funeral for Michael to throw the cops off and get them off her back. She expected no one to show up but everyone in Pine Valley did. They all spit their demons onto his casket and watched it lower into the ground. When Bianca and Kendall were standing by the grave, Bianca became weak and fainted. Ryan went to her side and helped her stand up, but noticed the sonogram that fell out of her purse. He immediately asked her whose sonogram it was, and Bianca was silent. He continued to question her, and Kendall jumped to her defense. In a desperate attempt to protect her sister, she told Ryan that she was pregnant with Michael's child.
Ryan refused to believe her story and figured she made it up to save her from the cops. By that time, the police were considering Kendall a prime suspect and if she married Michael, and had sex with him that night, then she could not have killed him. While Ryan was determined to find out the truth, Kendall and Bianca panicked about the baby. They told David, and David offered to help make Kendall look as though she were pregnant. Bianca didn't want to go along with the plan and put Kendall through more difficulty but Kendall refused to let their mother know the truth. She swore to Bianca that she wanted to protect her and the baby from any judgement. Maggie soon discovered their plan and thought it was extreme but, out of love for Bianca, agreed to help. Bianca even confided to Lena about her pregnancy because she didn't want to lie to her. They were finally starting to form a friendship and when Lena heard the truth, she continued to stand by Bianca's side and keep her secret.
Of course, Ryan blabbed the news to Greenlee du Pres, who informed her archenemy, Erica, about Kendall's pregnancy. Bianca stood by Kendall and watched their mother berate Kendall for the pregnancy plot, who believed it was another of her daughter's scams. Bianca, having to keep up the ruse, needed to pretend to shun Kendall but secretly stood by her sister. Ryan forced Kendall to take a pregnancy test to determine if she was lying and to settle the dispute about the Cambias will. Maria Gray performed the test as everyone watched. Bianca created a distraction outside, and David quickly swapped Kendall's blood sample with one he had drawn previously from Bianca.
As that was happening, Kendall was arrested for Michael's murder and everyone aids Kendall's defense and keep up Kendall and Bianca's pregnancy ruse. Erica works to protect Kendall but Kendall and Bianca continue to keep the truth from their mother. Ryan approached Bianca about Kendall's pregnancy and told her that he knew Kendall would pass the DNA test. He never came out and said it, but Ryan implied that he knew that it was Bianca who was pregnant. Despite Ryan's willingness to help, Kendall constantly turned him away. Later, however, Kendall agreed to let Ryan help out. He hired a top-notch doctor, who agreed to conduct a non-invasive paternity test on Bianca and say that she had conducted the test on Kendall. The test results satisfied the court, but there were still those who doubted that Kendall was really pregnant. In the middle of court, Greenlee du Pres yanked Kendall's dress off to reveal a pregnancy pouch.
The incident turned everything upside down. Everyone put two and two together and realized that Bianca was carrying Michael's child. Working to protect Kendall and Bianca throughout the trial, Erica was outraged and blasted her daughters for having lied to her. Kendall and Bianca both claimed that they had been doing what they thought was best for Erica but Erica didn't believe them. As Erica intends to confess to Michael's murder to get Kendall off, a mistrial is nearly called but Bianca starts to recall that she might have more information about Michael's murder and tries to remember that night so neither her mother or her sister go to jail. The pieces finally fell together and she realized that she had been the one who'd shot and killed Michael. While Erica attempts to protect her daughters from ruining their lives and Kendall, the only one aside from Reggie who knows Bianca murdered Michael, attempts to protect Bianca from this truth but is forced to reveal she and Reggie covered up Michael's murder, Bianca remembers the night she blocked out. She had visited Michael's condo, toting Reggie's gun, and when Michael again tried to harm her, Bianca shot and killed him. When Bianca confesses to murdering Michael, Kendall and Erica protest her confession, but the judge presiding over the case leans hard on the prosecution not to press any charges against Bianca. The murder charges against Kendall are dropped and the prosecuion does not pursue Bianca for Michael's killing. 
Bianca's daughter is born and the baby switch
Edit
As Bianca's due date approached, she found herself with Babe, who was also pregnant, trapped in the middle of nowhere following a storm. Babe called Paul and asked that he fly his medical helicopter to take her and Bianca to the hospital. When he arrived, he helped Babe deliver her baby. He then administered an unknown medicine to Babe, which left her groggy. During that time, Paul staged a chopper crash. When Babe awakened, Paul told her that her baby had died during the crash. However, when help arrived and Babe's family threatened harm to Paul if anything had happened to Babe's child, Paul changed his story and said that Bianca's baby had been thrown from the chopper. He had hidden Babe's baby in a nearby cabin and planned to give the baby boy to Kelly so that she could pass the baby off as her own.
Bianca's baby was then given to Babe, which left Bianca and her family to believe that her child had been killed. Bianca is devastated. She lashes out at Erica and blames her, furiously disowning her mother. Erica, thinking she is responsible for Miranda's death and believing she has destroyed her relationships with her daughters, goes to Las Vegas to become a showgirl. In her grief over Miranda's seeming death, Bianca is momentarily convinced that Babe's daughter, Bess, was her biological child. Bianca kidnapped Bess from the hospital, but was persuaded to return her to Babe and JR Chandler. Making matters worse, her partner, Lena, had to return to Europe to take care of her ailing mother. Months later, Lena would demand that Bianca join her. When Bianca refused, Lena ended their relationship. Bianca leaned on her close friend, Maggie, but when Maggie told Bianca she loved her and wanted to start a relationship, Bianca gently rebuffed her by stating that she didn't want to take advantage of Maggie's sexual orientation confusion, and that Bianca had too many things to deal with in her life. A hurt Maggie drifted away from Bianca and began dating Jonathan Lavery, Ryan Lavery's moody brother. As Bianca grieves for her daughter and Kendall acts out due to her devatation over Miranda's death, Erica returns and undergoes an intervention from her family for her drinking. Erica becomes close to both her daughters again and their mother-daughter relationships are restored.
Baby Switch truth comes out
Edit
Bianca became closer and closer to Babe, and continued to feel a special bond with Babe's daughter, Bess. As Bianca helped Babe end her miserable marriage to JR, a guilt-ridden Babe learned that Paul Cramer had given Bianca's child to her. Babe wanted to keep Bess in her life, but knew Bianca had to have her baby back. Babe tracked Paul down to the town of Llanview and quickly realized her baby was really alive and was being raised by Kelly and Kevin Buchanan. Babe snatched the baby and went on the run with Jamie Martin, but before she did so, she handed Bess to Bianca and told her that Bess was really Miranda.
At first, Bianca was too stunned to believe her friend would do such a thing, but when the truth finally sank in, she slapped Babe and swore she would never forgive her. Babe left, but unfortunately, Bianca was not able to reunite with her baby, because JR showed up. The two had an argument over who would keep the baby, which culminated in Bianca toppling off the second-floor balcony. JR fled with "his" daughter while Bianca was rushed to the hospital. Bianca lapsed into a coma. Even with tearful pleas from Kendall, Ryan, Maggie, Jack, and various others, she slumbered. Finally, when Erica managed to take Miranda from JR's custody, she put the baby in Bianca's arms and Bianca woke up. Mother and daughter were joyfully reunited at last.
After Bianca was released from the hospital, she realized that Maggie's relationship with Jonathan had turned emotionally and physically abusive. Maggie repeatedly ignored Bianca's warnings and accused her of being jealous of Maggie's "happiness." When Maggie said she needed Jonathan because no one else loved her, Bianca said she loved her and tenderly kissed her on the lips. The move only made Maggie retreat even further into denial, but when Aidan and Anita tracked down Jonathan's previous girlfriend and had her recount Jonathan's violence, Maggie ended the relationship. Jonathan had been struggling to keep Bianca and Maggie apart for months and snapped when he saw what Bianca had done. He planned to beat her up, but out of nowhere, Babe, who had just returned to Pine Valley, physically blocked him from hurting Bianca. Although Bianca had not forgotten or forgiven Babe for her lies, she saw the good in her and wanted Babe's son to have a better parent than JR Chandler. She agreed to let Babe accept a plea bargain with no jail time for her crimes, and wrote a letter, stating that she felt Babe was a good mother, to the judge in Babe and JR's custody trial.
During the time that there were no known living members of the Cambias family, Ryan, who was close to Michael Cambias' father, Alexander, had control of Cambias Industries and their fortune. Eventually everyone learned that Michael's older brother, Alexander, had a grown son, Ethan, and then Bianca learned that her daughter, who was also Michael's daughter, Miranda, was still alive. Ryan turned the Cambias holdings over to Ethan and Bianca. Bianca decided that she needed to get away from Pine Valley for a while and she knew that Cambias Industries needed help for their European division. Bianca asked Maggie to move to Paris with her, but Maggie refused. Suddenly, while the Cambias jet was detained on the runway due to fog, Maggie boarded the flight. She realized the one constant, good thing in her life was Bianca. They agreed to not make any demands on their relationship and to start out as friends, and see what happened next. With Maggie and Miranda at her side, Bianca bade a wistful goodbye to the city of Pine Valley.
After leaving Pine Valley, Bianca returned intermittently when her family needed her. She returned for Jack and Erica's wedding in Florida, to help Kendall decide one Christmas whether or not to terminate her pregnancy, and again after Kendall and her unborn child were nearly killed in a tragic accident at Fusion.
Bianca returned home again shortly after Josh Madden was publicly revealed to be Erica's son with Jeff Martin, originally thought to have been aborted back in the early 1970s. She and Josh began a tentative friendship, and she finally confessed to Kendall that another reason she left Paris and took Miranda back home was because Maggie had been unfaithful. She soon met glam rock singer Zarf, and was intrigued despite herself.
After sharing a couple of kisses with Zarf, Bianca felt tormented. She finally confided her angst to Kendall, and wondered how, as a lesbian, she could be attracted to a man. When she opened her door that night for her date with Zarf, it wasn't Zarf that she met -- but Zarf's female side, Zoe. Zoe and Bianca toyed with the thought of possibly pursuing a relationship upon Bianca's return to Paris. At the same time Bianca was to return to Paris, Zarf got a chance to tour as alter ego, Zoe, in Europe. As their departures neared, Bianca decided that it would be best for Miranda not to be exposed to Zoe's lifestyle as a rock star, and the two parted ways, but remained friends.
2008 Return
Edit
Bianca returned to Pine Valley in October 2008 with some surprises in store. She had met a woman named Reese Williams, and the two fell in love. The other surprise was that she was pregnant again -- and the father was her brother-in-law, Zach Slater. Zach had visited the new couple while on a business trip in Paris, and when Bianca expressed her desire for another child, Zach agreed to be a sperm donor.
Zach left Paris shortly after, not knowing if Bianca had become pregnant or not. Bianca had complications with the pregnancy and, as a precaution, did not tell anyone about her new bundle. Finally, when she was in her third trimester, Bianca decided to return to Pine Valley and tell everyone her joyous news. That moment was halted by the arrival of a series of terrible tornados that ripped through Pine Valley.
Zach returned to his beach house to check on Kendall and her children, but instead of Kendall, found eight-months-pregnant Bianca. While in the rubble, Bianca went into labor and, with Zach's help, gave birth to a little girl who was later named Gabrielle.
Paternity of Gabrielle
Edit
After mother and child were taken to the hospital and examined, Bianca was ready to share her secret with Zach, but Greenlee Smythe beat her to delievering the information to Zach. Bianca confessed to both Zach and Greenlee the story of Gabrielle. Erica soon learned of her new granddaughter but not the circumstances. With mother and child checked out, Bianca decided to stay in town to help Zach with Ian and Spike while the comatose Kendall was relocated to a Canadian facility for treatment for the injuries she'd sustained from the twisters. On Halloween, an exhausted Bianca went to answer the door and there stood a little girl in a French poodle costume. Bianca discovered it was Miranda.
Reese arrived with Miranda, and the couple shared a brief reconnection. When they were alone, Reese showed Bianca plans for the house she had designed for them in Paris, and recalled when they met and how Bianca had changed her life. Bianca, touched, did not think her partner could be any more sweet and romantic until Reese pulled one more surprise -- a diamond ring and a proposal of marriage. Bianca was elated and began planning a European wedding but Reese wanted to let her have a commitment ceremony in Pine Valley so that Bianca's loved ones could see her get married. They eventually decided to be wed in Connecticut on Valentine's Day so that their marriage would be legally recognized. As Ryan Greenlee were also planning a February 14 wedding, the two couple decided to have a double wedding.
As plans moved forward, Bianca began to become suspicious of Reese's sexuality after discovering that Reese had once been engaged to marry a man and that this was her first lesbian relationship. She was hurt that Reese had kept this from her. As Reese and Zach developed a close friendship, Bianca began to suspect their feelings were more than platonic. She arranged to spy on the two and witnessed them share an innocent kiss. Convinced Reese and Zach were having an affair, Bianca rushed away and crashed her car. She confronts them from her hospital bed, accusing them of cheating. Reese left the hospital and later threatened to leave town. Bianca apologized and told Reese that she believed that she and Zach were just friends.
Bianca's half-brother Josh kidnapped Reese after steeling millions from Zach and was shot by Zach as Reese broke away from his grasp. Paramedics kept Josh alive long enough for his healthy heart to be harvested and transplanted into Kendall's body. Kendall soon came out of her coma and was naturally overwhelmed by the news that she'd been in a coma for several months, that she'd received a heart transplant from her now-dead brother Josh. When told that Bianca had given birth to Zach's daughter, Kendall's reaction was muted. But her dislike of Reese soon becomes apparent and she works to break up the her and Bianca's relationship and force Reese to leave Pine Valley. Her plans fail but Kendall finally tells Zach, the day before Bianca and Reese's and Ryan and Greenlee's double wedding, that that she felt betrayed by Zach and Bianca for planning to have a baby together without discussing it with her.
Kendall told Zach that she refused to attend the wedding but Bianca begged her to come. Kendall promised to, as long as Bianca and Reese take Miranda and Gabrielle to Paris, never to return. Bianca reluctantly agreed. At the wedding rehearsal, Kendall made a cruel toast to the couple, causing Reese to leave. Zach later finds a drunken Reese and they share a passionate kiss that, unknown to them, was witnessed by Ryan. Ryan confronted Zach about it later but was told to mind his own business.
2009-2011
Edit
On February 14, 2009, the day of the two couples' nuptials, Bianca told her mother that she'd decided to stay in Pine Valley. Kendall overheard the declaration and decided not to attend because Bianca had broken their agreement. She angrily left and got into her car. Zach got in as she sped away and they argued.
Ryan told Greenlee that he refused to marry her alongside Bianca and Reese because he believed that Reese and Zach had been having an affair. Greenlee tried to find Zach to determine if Ryan was right. Not able to find him, she rode off on a motorcycle in search of Zach.
Bianca and Reese's wedding went forward and, without Kendall, Zach, Ryan, and Greenlee in attendance, the couple exchanged their vows. Tragedy struck when Kendall swerved into the oncoming lane as Greenlee approached from the opposite direction. Her motorcycle was forced off the road into a freezing river. Her body was not found and she was pronounced dead.
Bianca and Reese's wedded bliss did not last long as news of Greenlee's accident cast a pall over the celebration. Ryan told Bianca that he knew Zach and Reese had been sleeping together, confirming the fears she'd been fighting all along. Bianca told Reese their relationship was over and sent her annulment papers before taking Miranda and Gabrielle back to Paris. Reese stayed to finish design work on Zach's casino. A few months later, Bianca returned to Pine Valley to work on rebuilding her relationship with Kendall. Upon reuniting with Reese, and seeing her and Miranda interact, Bianca realized that she's made a mistake. The two reconciled and moved back to Paris with their daughters.
Prospect Park's AMC storylines
Edit
She is seen talking to her daughter Miranda Montgomery about concert tickets that she got from a friend.  Miranda says that there is a dance on that date. Bianca says that her younger daughter, Gabby, can just bring a friend over.  A boy from her school, Hunter, comes by and says that he wants to talk.  Bianca understands why the dance is important to her.  She walks into AJ's room where Miranda is preparing for her date with Hunter.  She gives Miranda a top and sends her off.  She is seen again at Marissa Tasker's gravesite mentioning about Miranda going on her first "big" date.  Bianca spots Zach Slater in Jane's Addictions and they chat about Kendall being out of town and Bianca's kids.  Jane McIntyre, owner of the coffee shop, wants to speak with her.  She informs Bianca on what happened to Miranda.  Bianca goes over to the Chandler Mansion where Miranda is at and they get into an tearful argument.
Crimes Committed
Edit
Ran away from Seattle, Washington, to be with her mother.
Set fire to her "Uncle Jack" doll, after seeing her mother and Uncle Jack kissing.
Poured ink on Kendall's bridesmaid dress.
Pushed Jonathan Kinder down the stairs (Fall 1996).
Skipped her first day of school at Pine Valley High School.
Underage drinking.
Aided and abetted Gabriel Devane and Rosa Santos when they were on the run from police.
Allowing underage drinking (Gabriel) (Aug 3, 2001).
Destruction of property; trashed Erica's office at Enchantment in a moment of rage (Dec 10, 2001).
Shot and killed Michael Cambias (Aug 29, 2003).
Kidnapped "Bess Chandler" from the hospital nursery (April 12, 2004).
Maladies & Hospitalization
Edit
Reye's Syndrome [1990]
Was treated in a rehabilitation center for anorexia.
Hospitalized after a fall from her horse. [November 28, 2001]
Sexually assaulted by Michael Cambias. [July 8, 2003]
Underwent surgery to repair damage caused during delivery of her daughter. [March 2004]
Lapsed into a coma following a fall from a second-floor hotel balcony. [December 2004]
References
Edit
↑

Bianca returned as a teenager in 2000
Community content is available under
CC-BY-SA
unless otherwise noted.